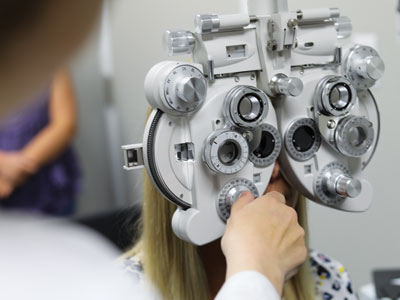 Those with diabetes have an increased risk of developing vision-threatening eye conditions.
It is imperative that individuals with diabetes receive a comprehensive dilated eye exam at least once a year to identify potential eye problems as soon as they appear.
Diabetic Eye Disease
Over time, high blood sugar from diabetes can damage the tiny blood vessels in your eyes, leading diabetic eye disease. Diabetic eye disease refers to several different conditions that can result from diabetes. One such condition is known as diabetic retinopathy, where the damaged blood vessels can cause damage to your retina, the inner lining of the back of your eyes. If left undiagnosed and untreated, diabetic retinopathy can lead to serious vision problems later in life. Other conditions associated with diabetic eye disease include cataracts, glaucoma, and diabetic macular edema. Like diabetic retinopathy these conditions, if left untreated, can lead to blurry vision or vision loss.
How Can I Protect My Eyesight?
Like all eye diseases, regular comprehensive eye exams can help you and your doctor to spot any developing conditions as soon as possible and put together a plan of action to manage it. Diabetes puts individuals at a higher risk of developing eye conditions, meaning your doctor may advise that you receive eye exams more frequently than once a year. Because these conditions develop from damage to blood vessels in the eyes, there are preventative steps you can take at home to avoid them or lessen their severity. Keeping your blood sugar, blood pressure, and cholesterol levels in check can slow any damage to the blood vessels in your eyes. A doctor can help you regularly check and manage these. A healthier lifestyle, like exercising regularly and better eating habits, can also help to lower your blood sugar. No matter the case, Eyecon Optical is here to help you tackle whatever diabetic eye disease throws at you.